Executive Physical Exam Services
The Elitra Executive Examination at a Glance
Executive Health Exams Services
Every Elitra Health medical exam patient receives personalized medical care and service. In fact, our physicians see only two to three patients each day to enable them to fully focus on personalized care. We offer multiple executive exam program levels that consist of comprehensive screenings and tests to best suit the needs of each patient and provide a roadmap to better health and longevity.
Some of our most popular services are (see below for all available executive medical services and components):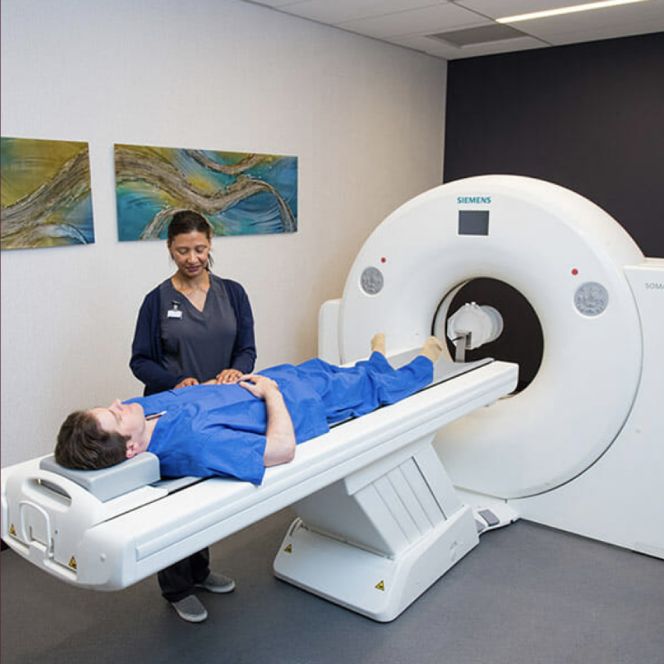 Full Body CT Scans
Our most popular service, the whole body scan, is available as an add-on service to the base Elitra Exam. This whole body scan offers complete views of all your organs, muscles, blood vessels, and tissues. Full body scans are the best method for early detection of tumors, nodules, cysts, aneurysms and more. Our full body screening is performed on-site by an experienced radiologist, using the most advanced technology. The results for the full body scan are provided same-day and are reviewed with you by our expert preventive health team.
Over 2 Hours of Dedicated Doctor Time
Every medical package we offer includes virtually unlimited time with your physician and the rest of the preventative health team. This benefit provides you with unrushed access to a health professional focused on your specific needs. They are here to answer any questions, discuss same-day findings, and develop a longevity plan that is right for you. Our partnership with Mount Sinai Hospital also allows us to schedule expedited appointments with specialists, when necessary, fully handled by our white-glove concierge team.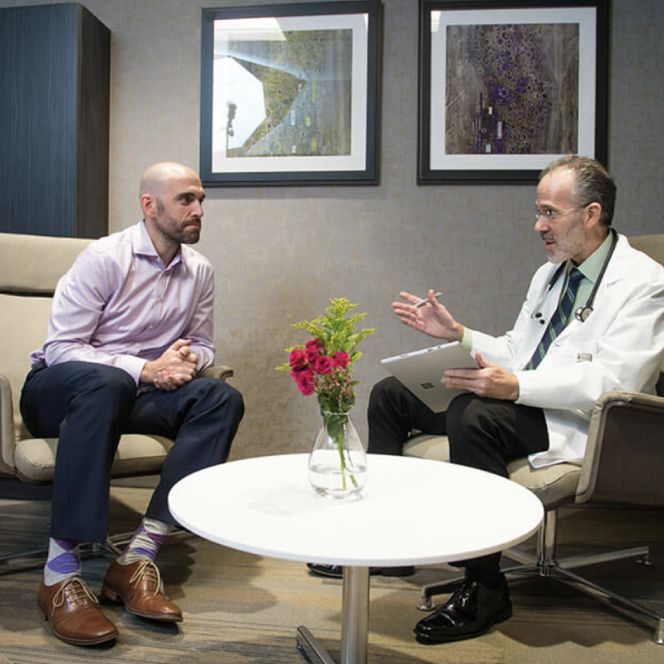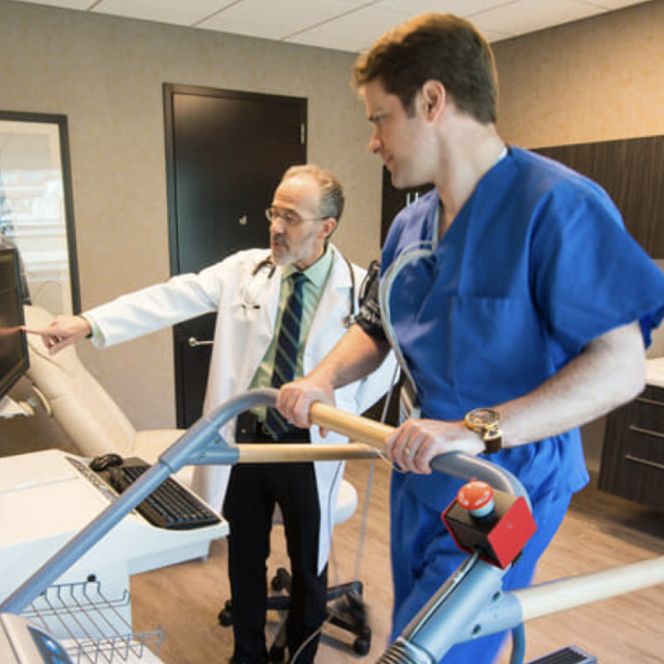 Exercise Fitness & Nutritional Lifestyle Assessment
We continuously receive rave reviews about our exercise and nutrition programs. These lifestyle assessments include a range of tests and services that explore your current fitness and wellness goals. Our expert specialists perform body and muscle mass composition analysis, food and supplement reviews, and other tests to develop personalized plans to reach those goals. Elitra also offers ongoing weight loss and healthy eating programs to ensure you stay on track for maximum longevity. And do not forget about the therapeutic health massage!
Full Executive Health Program Components

DETAILED MEDICAL HISTORY & EXECUTIVE PHYSICAL EXAMINATION
• Full Body Physical
• Medical / Family History Review
• Audiometry / Hearing Test
• Vision Screening – Color / Acuity
• Glaucoma / Tonometry Testing
• Spirometry / Pulmonary Function Test
• Cognitive & Neurological Assessment
• Dermatology / Skin Cancer Screening
• Immunization History Review
• Blood Typing
• STD & HIV Panels*
• Select Vaccines*

PHYSICIAN CONSULTATION & COMPREHENSIVE REPORT
• Extended meeting with MD to review all screening and test results
• Determine required follow ups and coordinate preferred appointments with specialists
• Discuss and review proposed personal wellness plan

EXECUTIVE MEDICAL IMAGING SERVICES
• Full Body CT Scan*
• DEXA Bone Density Scan
• Digital X-ray*
• Brain MRI*

CARDIO-VASCULAR EVALUATION
• Resting Electrocardiogram (EKG)
• Cardiac Stress Test (CST)
• CT Scan of Heart & Coronary Arteries
• Coronary Calcium Score
• Echocardiogram*
• Carotid Ultrasound*
• Abdominal / Aortic Ultrasound*
• CT Angiogram*

CANCER SCREENING
• Prostate Specific Antigen (PSA)
• Colon Screening / Fecal Occult Test
• Virtual Colonoscopy*
• Thyroid Ultrasound*
• Hereditary Cancer Screen*
• Cologuard*
• DNA Sequencing*

EXECUTIVE WELLNESS NUTRITIONAL & LIFESTYLE ANALYSIS
• In-depth Nutritional Consultation with Registered Dietician
• Food diary review
• Development of personalized nutrition plan
• Review of Stress / Behavioral Health
• Food & Supplement Recommendations
• Health & wellness Education
• Food Sensitivity Testing*
• At Home Sleep Apnea Test*

EXECUTIVE HEALTH PROGRAM
FITNESS ASSESSMENT
• Health Massage
• Personal Consultation with an Exercise Physiologist
• Body Composition and Muscle Mass Analysis
• Visceral Fat Measurements
• Personalized Fitness Plan Development
• Resting Metabolic Rate*
• Sex & Energy Panel*
• Weight Loss Coaching*

WOMEN'S HEALTH AND IMAGING SERVICES
• Digital Mammography*
• Pap Smear*
• HPV Test*
• Pelvic Ultrasound*
• Breast Ultrasound*

COMPREHENSIVE LAB ANALYSIS & EXECUTIVE PROFILE BLOOD TEST
• Complete Blood Count and Blood Chemistry
     • Lipid Profile: Total Cholesterol, HDL Cholesterol, Direct LDL               Cholesterol, Triglycerides, C-Reactive Protein
     • Hemoglobin A1C, Protein / Homocysteine Levels
• Complete Urinalysis
• Thyroid Function Profile
• Vitamins D/B12
• Iron and Ferritin Levels
• Advanced Lipid Panel*
*These are additional services can be added to our base Elitra Exam. Your dedicated patient concierge will discuss all options to develop your optimal personalized wellness experience.
Take greater control of your health. Call 1(888) 202-0128 or click here:
Common Executive Health Screening Questions:
What is an executive physical exam?
An executive physical exam, also known as an executive health examination, is a comprehensive and personalized medical assessment tailored to the unique needs of high-powered executives. These exams go beyond standard annual physical check-ups, encompassing a range of diagnostic tests, preventive screenings, and consultations with specialists. By evaluating various aspects of health, including cardiovascular health, cancer risks, bone density, and more, executive physicals aim to proactively identify potential health issues and provide early interventions. The goal is to optimize your well-being while increasing healthspan, effectiveness, and long-term success. Most importantly our complete physical features same-day results and multiple hours of dedicated one-on-one time with a world class longevity physician.
What is included in an executive physical?
We are often asked what we do at an executive physical. An executive annual physical starts with a detailed medical history review and ends with hours of uninterrupted time with a physician dedicated to your health. The goal is to understand your current state and develop an actionable plan to increase longevity. We do this through on-site CT scans, blood tests, fitness and nutrition assessments, vision and hearing tests, dermatology screening, and more!
Read more Fequently Asked Questions
I was looking for an executive physical near me and was referred to Elitra Health. I was extremely impressed by the staff, facility and program. Can't say enough good things about the variety of tests and quick turnaround.
Elitra has the best exectutive health program! I've never had the opportunity to spend so much time with a doctor and get so many questions answered. He was terriffic and the staff was incredible!
Really outstanding and exceeded all expectations, the best executive physical exam. Everyone was top notch and made me feel at ease. The high touch and personal aspects of the day made it so worthwhile, as well as the reports and recommendations that made it easier to build an action plan.